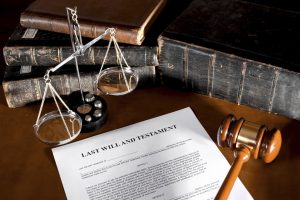 While a testator has the ability to name anyone as his or her executor, there are certain grounds for disqualification. According to the Surrogate's Court Procedure Act § 707, a nominated executor is ineligible if he or she is:
an infant
determined by the Court to be incompetent or incapacitated
a non-citizen or non-permanent resident of the United States
not qualified as a fiduciary due to substance abuse, dishonesty, improvidence, want of understanding, or unfit for the execution of the office, which places the beneficiaries' interests at risk
a convicted felon
Previously, court forms did not explicitly ask about an executor's criminal history.  However, recently, court forms were updated to explicitly ask whether the person seeking to be appointed by a testator is a convicted felon.  For some people, a family member or loved one may have committed a crime in the past. Unfortunately, a testator would not be permitted to appoint them as their executor, regardless of their relationship as family members, the nature of the felony, surrounding circumstances or duration of time since the felony occurred, among others.
Currently, there are no exceptions in New York State that permit a convicted felon to serve as the executor of an estate.  Furthermore, it may not be in the best interests of the estate to appoint an executor that has filed for bankruptcy or has a history of alcohol or drug problems. Here, a court can deny a testator's request if it feels that the nominated executor can put the estate in jeopardy.
In addition, a family member or loved one may challenge an executor's nomination. However, he or she must provide evidence to prove that the person is ineligible or unfit.  This can be costly and time-consuming, which will delay the estate administration process.
If you or a loved one is seeking to nominate an executor, it is important to speak with an attorney who will guide you through the process in order to protect your interests. An experienced New York estate planning attorney can give you the legal guidance necessary to help plan for the future. From the simple to the complex, the attorneys at Blodnick, Fazio & Clark are skilled in all aspects of estate planning and dedicated to representing their clients with diligence and compassion. For more information or to schedule a consultation, contact our Garden City estate planning lawyers at (516) 280-7105 or, for our Babylon estate planning lawyers, call (631) 669-6300.