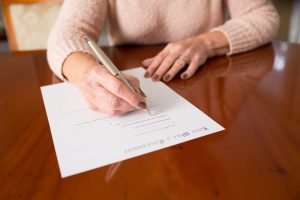 A disinherited child has the right to contest a parent's Will if he or she is disinherited, not named as a beneficiary or left with a disproportionate share. In accordance with the laws of estate administration, a disinherited child is allowed to contest a Will because he or she would have been entitled to a share of a parent's estate if he or she had died without a Will.

As a requirement of admitting to probate a will that disinherits a child, the Executor must notify a disinherited child that the parent's Will is being probated. This can be accomplished through a Waiver of Process & Consent to Probate, which requires the Executor to secure this signed document from the child (assuming the child has the legal ability to execute such a document). If signed, the child is agreeing that the Will is valid and that the Executor may be appointed to administer the estate.

If the document is not signed, then a probate citation must be issued by the Surrogate's Court with a date to appear in front of a judge so that the child may formally object to the Will if they so choose. Once the child is served, he or she must appear in order to formally contest the Will. If the child fails to appear on such date, he or she waives his or her right to contest the Will.

To avoid the necessity of a contested probate proceeding in Surrogate's Court as well as to decrease the risk of having a disinherited child contest a Will, one can establish a trust that may be funded during the course of a person's lifetime. A properly executed trust may assist in preventing the need for a Will from to be probated or contested. In addition, establishing a comprehensive estate plan will help to save time and preserve the estate's resources.

If you are in the process of planning for your future needs or the needs of a loved one, an experienced New York estate planning attorney can give you the legal guidance necessary to help plan for the future. From the simple to complex, the attorneys at Blodnick, Fazio & Associates are skilled in all aspects of estate planning and dedicated to representing their clients with diligence and compassion. For more information or to schedule a consultation, contact our Garden City estate planning lawyers at (516) 280-7105.