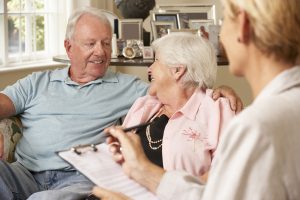 Once a person is approved for Community Medicaid, which is care provided by a home health aide to a Medicaid recipient in his or her home, he or she must be evaluated by a Managed Long-Term Care Company (MLTCC) before receiving services. As a requirement of the Department of Social Services (DSS), an approved Community Medicaid recipient must enroll with a MLTCC who will send an evaluator to assess the benefit recipient's condition in order to create a care plan that will suit his or her daily needs. The evaluator will determine the number of hours per day that the recipient is entitled to receive a home health aide to assist with his or her basic daily needs.
An evaluator will ask a series of questions. The answers to those questions will generate points that determine the number of home health aide hours that the Medicaid recipient will be entitled to receive. The number of hours that a recipient receives may be anywhere from a few hours per day to a permanent live-in aide. However, some individuals find that the MLTCC did not award their loved one with a sufficient number of hours after conducting an evaluation. If that is the case, after a person is enrolled, he or she may request additional assistance and ask for a re-evaluation. If the MLTCC denies the request or decreases the originally awarded hours, a person is entitled to file an appeal. Once an internal appeal is filed and a decision is rendered, a person may file a request for a hearing with the Office of Administrative Hearings (OAH), which is regulated by the New York Department of State, if they still believe the decision to be in error.
Community Medicaid provides a loved one with the ability to remain in the home. However, an adequate number of home health aide hours must be given to ensure his or her safety. For this reason, it is beneficial to have an attorney attend the evaluation, as well as file an appeal, if necessary, in order to get your loved one the maximum number of hours that he or she should be entitled to receive.
If you are in the process of having a Community Medicaid evaluation or seeking to file an appeal for an increase in home health aide hours, an experienced elder law attorney may assist in providing the legal guidance necessary to resolve any contentious issues. From the simple to complex, the attorneys at Blodnick, Fazio & Clark are skilled in all aspects of elder law, Medicaid planning, probate and estate administration and are dedicated to representing their clients with diligence and compassion. With offices conveniently located in Garden City, Nassau County, and Babylon, Suffolk County, the firm is dedicated to providing high-quality legal representation at reasonable costs. To arrange a free consultation contact our Nassau County estate planning lawyers at (516) 280-7105 or for our Suffolk County estate planning lawyers call (631) 669-6300.