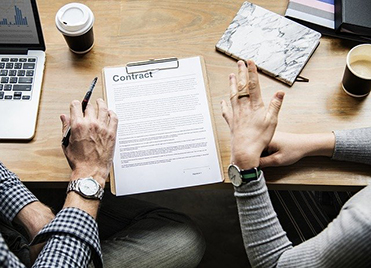 Businesses can live and die based on their reputations for abiding by their contracts. Nevertheless, there are constantly situations where businesses accuse one another of a breach of contract, whether due to negligence, malfeasance, or a simple misunderstanding. When that happens, there are a few possible ways to resolve the dispute.
Negotiation
Even when there's a contractual dispute, there don't necessarily need to be any outside parties brought in. Many breach of contract claims can be resolved through simple negotiation between the parties, the same way they negotiated the contract in the first place. However, this requires both parties to the contract approaching the negotiation in good faith, and in any case, there may be enough bad blood from the dispute that simply coming to an agreement by themselves isn't possible.
Mediation or arbitration
If private negotiation isn't possible, there are so-called "alternative dispute resolution" procedures, such as mediation and private arbitration. In both mediation and arbitration, an impartial third party is brought in to help resolve the dispute in a semi-formal setting. The major distinction is that an agreement made in mediation isn't necessarily legally binding unless reduced to writing and executed by the parties, while an arbitrator's ruling is legally binding, and requires forgoing each party's right to a jury trial.
Making the wronged party whole
When those methods fail, it may come down to the courts to resolve the dispute, in which case they will generally try to make amends to the wronged party by having the defendant compensate the plaintiff. That means paying for the lost value on goods or services, as well as footing the cost for finding alternative sources for those goods and services, and any additional costs or losses that might've been incurred as a result of the breach of contract. The end goal of the court is, typically, not to punish one party, but instead to "make them whole," as they were prior to the breach occurring.
Specific performance
In some rare circumstances, however, finding an alternative source for a product or service isn't possible. For example, if a stadium books Beyoncé to perform for one night, and Beyoncé decides she doesn't want to perform for some arbitrary reason, you can't simply replace her with Taylor Swift or Nikki Minaj. In such a circumstance, the court might order Beyoncé to perform anyway, because the primary appeal of the event was the name recognition and talent that Beyoncé brings, which can't simply be replicated by another singer.
The business law attorneys at Blodnick, Fazio & Clark are skilled and knowledgeable in the area of business law and commercial transactions.  With an office conveniently located in Garden City, Nassau County, and Babylon in Suffolk County, the firm provides high-quality legal care at reasonable prices. If you require legal assistance concerning business startups, formation, corporate acquisitions and mergers, corporate restructuring, or another business matter, call (516) 280-7105 or fill out our contact form for a free consultation.