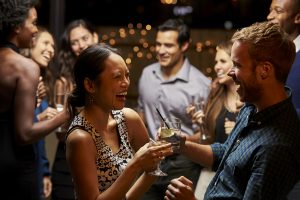 The holiday season is upon us and many businesses choose this time of year to celebrate workplace achievements and express gratitude to employees for their contributions. Although holiday parties are customary to some businesses, others are choosing to forgo these festive traditions in fear of legal liabilities stemming from alcohol use, injuries, and harassment. For businesses that choose to have a holiday party, it is important to take measures to minimize risk and promote safety.
More Businesses are Forgoing the Holiday Party
Despite economic growth, fewer businesses are choosing to have a holiday party this year. According to a 2018 survey conducted by Challenger, Grey & Christmas, Inc., only 65 percent of corporations are choosing to hold a holiday party, the lowest number since 2009 when the U.S. was barely emerging out of the recession.

According to Challenger, Grey & Christmas, Inc., the shortage of holiday celebrations is not due to lack of finances but, rather, various reasons, including potential liability concerns about the #MeToo Movement, a campaign against sexual assault and harassment. Although around for years, the #MeToo Movement gained national recognition in 2017 after the Hollywood producer Harvey Weinstein faced allegations of sexual assault and harassment.

Of the companies having a holiday party this year, 58 percent have reported that they have discussed the #MeToo Movement with their staff, 33 percent of which have addressed or will address the issue prior to the party, according to Challenger, Grey & Christmas, Inc. The fact that almost 60 percent of the corporations that are having a party have voiced concerns about inappropriate behavior suggests that many companies are recognizing and responding to the issue of sexual harassment in the workplace. For some businesses, their response may be eliminating the holiday workplace celebrations altogether.
Tips to Limit Liability at the Holiday Party
Businesses who are looking to throw a holiday party this year should consider taking proactive measures to minimize the risk of liability.

Have a Policy in Place and Reiterate It
A business should have a clear, comprehensive anti-harassment policy outlined in the employee handbook. Management or human resources staff should reiterate the policy to employees prior to the holiday party.


Send Out a Memo
Businesses should consider sending out a memo to staff members to remind them to act responsibly. It should also include a clear warning that there will be zero tolerance for any inappropriate behavior, including overconsumption of alcohol.


Monitor and Moderate Alcohol Consumption
If alcohol is being served at the holiday party, management should communicate to staff that drinking shall be in moderation and that excessive alcohol consumption will not be tolerated. Businesses should consider limiting the number of drinks served or the length of time during which alcoholic beverages are provided. In addition, non-alcoholic beverage alternatives should be readily available throughout the festivities. In addition, plenty of food should be provided and businesses may want to consider having entertainment, a game, or activity to ensure that drinking isn't the focus of the event.

While the holiday season is a time to celebrate employees and express gratitude for their hard work, it does not come without the risk of liability. It is important that businesses take proactive measures to protect the staff from the risk of injury as well as the business from harmful litigation. The Long Island business lawyers at Blodnick Fazio & Clark are experienced in all aspects of business law, commercial litigation, and employment law. Our attorneys assist businesses in developing policies to limit liability and protect their interests. For more information or to schedule a consultation with our Long Island business lawyers, call (516) 280-7105 for our Nassau County law office or (631) 669-6300 for our Suffolk County law office.