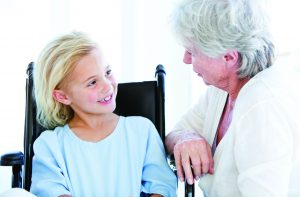 The New York Achieving a Better Life Experience (NY ABLE) program is a savings plan for individuals with disabilities. The program allows those with disabilities to save money in their name without jeopardizing their benefits.

The account can be opened by an eligible individual, parent, or legal guardian for a New York State resident with a minimum of $25.00. An eligible individual, family member or friend may make contributions of up to $14,000 a year. There is a maximum account balance of up to $100,000.00 and a maximum of one account for each individual.
If the funds in a NY ABLE account are used for qualifying disability expenses, then the earnings and distributions from the account are tax-free. Qualifying disability expenses are:
Education costs;
Health expenses;
Transportation; and
Housing, among others.
The funds in the account may be accessed a number of ways, such as through a checking account or debit card. Detailed records should be kept regarding each transaction, because each year, NY ABLE will report all withdrawals to the IRS and the Social Security Administration. If either entity wants to know the purpose of each withdrawal, the detailed records will assist with this process.
To be eligible for the program an individual must:
Be diagnosed with the disability before age 26
Be eligible for Supplemental Security Income (SSI) or Social Security Disability Insurance (SSDI)
Have a disability documented by a physician, have a disability on the Social Security Administration's Compassionate Allowances Conditions list or be blind.
Speak with an experienced attorney to determine if the NY ABLE program is right for you or your loved one. If you are in the process of planning for your future needs or the needs of a loved one, including a child with a disability, an experienced New York estate planning attorney can give you the legal guidance necessary to help plan for their future. From the simple to complex, the attorneys at Blodnick, Fazio & Associates are skilled in all aspects of estate planning and dedicated to representing their clients with diligence and compassion. For more information or to schedule a consultation, contact our Garden City estate planning law firm, at (516) 280-7105.